Procalcitonin, a 116 amino acid polypeptide prohormone of calcitonin, has emerged as a highly sensitive biomarker to aid diagnosis of bacterial sepsis. Synthesized primarily by the C-cells of the thyroid gland, and to a lesser extent in the neuroendocrine tissue of other organs such as the lungs and intestines, normal procalcitonin levels in the blood are very low.
However, production can be stimulated in almost every organ by inflammatory cytokines and especially bacterial endotoxins, causing high amounts of procalcitonin to be released in the blood.
This allows procalcitonin levels to be used as a biomarker of severe inflammation, infection and sepsis. The higher the level of PCT, the greater the likelihood of systemic infection and sepsis [1].
A new consensus paper has redefined sepsis as organ damage associated with infection. This indicates the need for sensitive biomarkers for infection and organ dysfunction to support the early detection and treatment of sepsis [2].

Another recent paper by Sager et al. offers recommendations on antibiotic management of patients in ED and ICU with suspected infection or sepsis, based on PCT levels. See figures 1 & 2 below [3].

Furthermore, the 2016 guidelines of the Surviving Sepsis Campaign (SSC) recommend the use of PCT as a tool to steer and optimize antibiotic treatment [4].


Proposed PCT algorithm for ED patients with suspected respiratory tract infections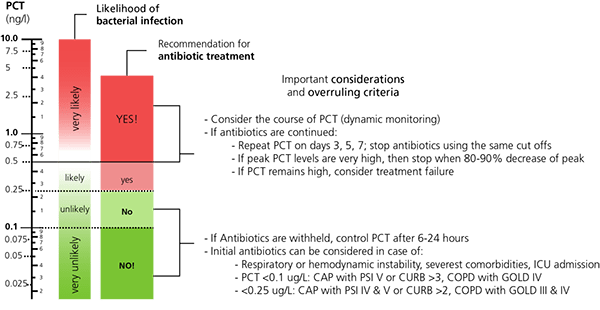 FIG 1: Adapted from Sager R et al. Procalcitonin-guided diagnosis PCT and antibiotic stewardship revisited. BMC Medicine 2017; 15:15. Abbreviations: CAP: Community Acquired Pneumonia; PSI: Pneumonia Severity Index; CURB: Confusion, Urea, Respiratory rate, Blood pressure - Score; COPD; Chronic Obstructive Pulmonary Disease; GOLD: Global Initiative for Chronic Obstructive Lung Disease – Grade


Proposed PCT algorithm for patients in the ICU with suspected sepsis


FIG. 2: Adapted from Sager R et al. Procalcitonin-guided diagnosis and antibiotic stewardship revisited. BMC Medicine 2017; 15:15
A highly sensitive biomarker
Because of its high sensitivity for most prevalent types of infections, procalcitonin is widely acknowledged as a highly sensitive biomarker to aid in the diagnosis – or rule-out – of bacterial sepsis, with a high negative predictive value above 95 % [5].
Compared to C-reactive protein (CRP) – another biomarker frequently used to aid in the diagnosis of systemic inflammation and infection – procalcitonin has superior biokinetics, characterized by concentrations increasing earlier in the event of bacterial infection and sepsis, and decreasing faster in case the infection is controlled [6].

These favorable kinetics potentially enable earlier diagnosis of sepsis and better monitoring of its progression [2, 6, 7].


Early antibiotic management
In case of suspected infection, undelayed and appropriate antibiotic treatment should be considered. Any start of such therapy should wait until after the draw following analysis of a blood sample for microbiological blood cultures to identify the presence of any blood-borne microorganisms.
Because blood culture results may take several days to be available and is associated with limited diagnostic accuracy for infection, PCT levels can aid the clinician in the early antibiotic management of patients with suspected infection [3-5].