The Klinikum Ernst von Bergmann relies on Radiometer's AQT90 FLEX analyzer for early and convenient measurement of procalcitonin (PCT), the biomarker of choice to aid in the diagnosis of sepsis.
The Klinikum Ernst von Bergmann hospital—one of the largest hospitals in the Berlin/Brandenburg region in Germany—is an academic teaching hospital with over 1,000 beds. It offers a range of services, such as primary prevention and inpatient and outpatient treatments. It is also a referral hospital for smaller hospitals in the area.
The Emergency Department (ED) department is busy, seeing over 45,000 patients a year. The department has an AQT90 FLEX analyzer, which includes the biomarker procalcitonin (PCT).
Dr. Michael Oppert, Head of the Intensive Care and Emergency Medicine departments, explains that sepsis is increasingly a focal point in emergency medicine. He states, "In Germany, the average age of people attending ED is increasing, and the morbidity of the patients is much more severe now than a couple of years ago. Both surgical and medical treatments are also more invasive and this makes patients more susceptible to complications and severe infections."
Making a diagnosis of sepsis
Sepsis is a common and severe infection related condition that can be difficult to identify. Patients who have sepsis may present symptoms of high fever, hypothermia, delirium or an altered level of consciousness.
Other symptoms include organ dysfunction, reduced urine output, shortness of breath and low blood pressure. If the patient also has an elevated level of lactate and mild acidosis, the probability of sepsis is high. This patient should be monitored and treated accordingly. The myriad of symptoms makes diagnosing sepsis challenging.
Dr. Oppert explains, "When a patient is clearly septic, treatment can begin without any further investigations. However, some patients fall into a grey area, where there is a clinical suspicion of sepsis but the diagnosis is not clear cut. In this situation, we administer antibiotics while further tests are performed: point-of-care testing (POCT) for infection markers, such as PCT and C-reactive protein (CRP), and lactate, as well as blood cultures. Both infection and inflammation—for example, due to autoimmune diseases, infection, and severe trauma—cause an increase in CRP. In contrast, PCT remains low in patients with inflammatory states, but is elevated when a bacterial infection is present."
He continues, "For these patients, the measurement of PCT using the AQT90 FLEX analyzer is a great advantage, helping to differentiate patients with sepsis from those with non-infectious causes of systemic inflammations."

Every minute counts
It is essential to make a diagnosis quickly for the best possible outcome for the septic patient. 
While central laboratories may have an acceptable turnaround time from receiving the sample to producing a result, the overall 'vein to brain' time—the time between drawing the blood from the patient's vein to the result reaching the doctor's brain—will be longer. More time needs to be allocated for other tasks, such as transporting and preparing samples for testing, and validating and uploading results to the electronic patient record. 
Rapid turnaround times are vital and, compared to central laboratory testing, POCT can deliver results in minutes, rather than hours.
Dr. Oppert states that "We know that time is life for a septic patient. Every hour's delay in initiating the correct treatment—fluids, antibiotics, microbiology testing, etc. —increases the mortality risk by as much as eight percent."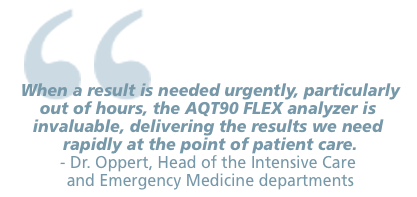 No sample preparation necessary 
In a fast-paced emergency environment, POCT must not only be quick but also simple to perform and require minimal hands-on time. 
This is where the AQT90 FLEX analyzer comes in. It is readily accepted by nursing staff because it is easy to use and sample preparation is unnecessary. 
Dr. Oppert further explains, "With the AQT90 FLEX analyzer, PCT testing is quick and easy. There is no need to centrifuge the tube and pipette plasma into another container. This is so important in a busy emergency department. You simply draw a blood sample, place the tube in the analyzer and press go. Accurate, reliable results can be available—and the printout in the doctor's hand—in less than 21 minutes." 
Related case stories
Reducing mortality and ICU admissions in a Spanish hospital.